Divorce Mediation for an Amicable Divorce in San Diego
Couples who are in the process of separating in California should want to strive for an amicable San Diego mediation divorce process but many assume that such a peaceful transition is a fairytale not possible for their situation. If you want to have a healthy amicable divorce in San Diego, it's more than possible but you need to carefully proceed in a way that will help you and your spouse stay aligned throughout the process.
During the free divorce mediation consultation we offer interested couples to help educate couples about their separation or divorce options and in particular the mediation process alternative to years long divorce litigation, it is common for one spouse to put forward their assumption that the other will be unreasonable in their demands which makes them question mediation as an option. While you may be right in this thinking, you need to test your presumption and do everything you can to allow the divorce to be amicable and approach the discussions without this assumption taking over.
The first thing to do is leave your change your thinking and walk into the divorce proceedings like they are a business negotiation. If you approach the process calmly and with your mind leading the interactions as opposed to your emotions, you will make it clear that you're there to make good decisions without a fight.
Amicable divorce does not mean that everyone is friendly and high fiving and generally approaching the divorce with postiivity and joy. Rather, an amicable divorce means a San Diego divorce without lawyers leading the fight via litigation. To resolve things amicably, you need to stay out of the court system to reach a settlement through communication and compromise. People who litigate cannot reach compromised settlements and pursue resolution through an attorney controlled divorce trial.
Unlike a litigated divorce, an amicable divorce is achieved with our help by family law attorney Scott Levin working with the parties and at times their attorneys to negotiate an equitable informed settlement. A settlement achieved without litigation is therefore is achieved for our clients with the aid of San Diego divorce mediation lawyer Scott Levin. The settlement then becomes a formal judgment as we file and prepare all the legal documents for clients so that the end result is no different than if they had utilized the court litigation process.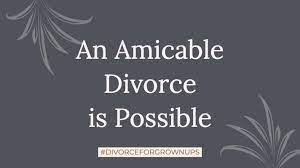 To achieve an amicable divorce, two spouses must recognize that they cannot get everything they want and instead must compromise. An amicable divorce in San Diego County often involves emotions and disputes and failure to agree on things. But through continued communication with the help of a divorce mediation specialist, couples get things figured out even when the compromise is not exactly as they desire. When disagreement on an issue stifles the discussion, our San Diego family law attorney mediator Scott Levin at times will move on to other issues where the couple likely will come to agreements. Building momentum and then coming back to the dispute is a valuable tool for those wanting to achieve an amicable divorce in San Diego.
How to have an amicable divorce is mostly about approaching the issues with an open mind, considering the options and ideas raised by the parties and mediator and their counsel, and working hard to always keep the objective of a voluntary settlement at the forefront. Our office helps hundreds of couples each year reach an affordable mediated divorce settlement and you can do the same if you at all times keep that objective top of mind.
At San Diego Divorce Mediation & Family Law, Scott Levin and our dedicated team of dispute resolution professionals handle all of your family law needs in California including throughout Orange County, Los Angeles County, Ventura, Riverside, San Bernardino and San Diego Counties, but do so as a neutral mediation specialist and not an advocate for one party versus the other. Please contact us for a strategy session to discuss your case and to explore how we can help resolve your issues to save time and money and heartache throughout California with family law attorney mediation services. We can help you and your spouse create a path toward an amicable resolution of your divorce.