Why Choose Mediation For Divorce
Why Choose Mediation For Divorce? Because Why Ruin Your Life
It is a very basic question. Why do we what we do by offering exclusively mediation services. You would be shocked to know the number of prospective clients we turn down because they are only interested in a litigation attorney. So why would we turn down the money by limiting our practice? It certainly has nothing to do with competenvce as Scott Levin graduated Magna Cum Laude from New York University and then attended one of the top 5 law schools in the country in University of Virginia School of Law. Read more about Scott Levin Divorce Mediator. Or at least why don't we do both medaition and litigation like every other law firm in town claims to do?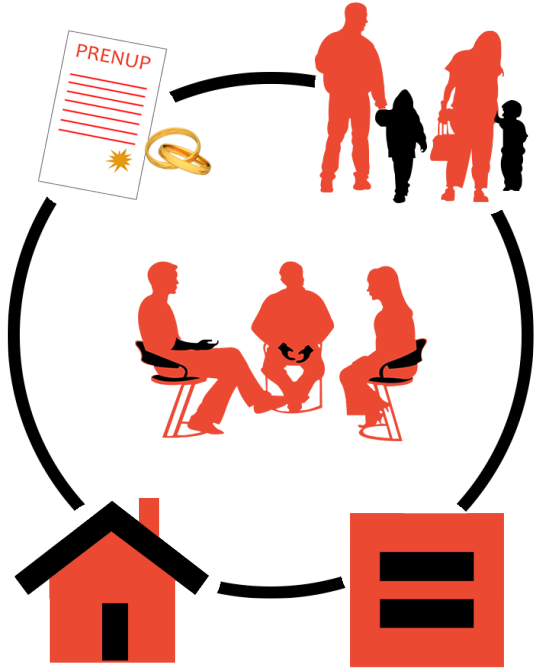 The reason we do what we do is because Scott was formerly involved in divorce litigation and gradually shifted his practice to exclusively mediation only because of the results that he witnessed with his own clients. By having had the opportunity to compare hundreds of litigation divorces to hundreds of mediated divorces, the outcomes for mediated clients are dramatically better. They spend less time and money, their finances remain private and confidential, they listen to each other and learn how to be better co-parents for the future, and the children benefit from more love and more property and money being available to them in the now and future. Mediation defeats litigation every time like a 1987 first round knockout by Mike Tyson.
In litigation, one lawyer represents a husband or wife and another lawyer represents the other spouse. These adversarial divorces take 1 to 3 years to resolve. And the dirty little secret is that unless you are Bill Gates, you will settle the case before trial. 98% of more of litigated divorces in our experience end in a negotiated settlement. So you won't be going to trial, but you will be missing work to go to court between 7-15 times, paying $30 for parking, paying $400 per hour (each) for your lawyers, and generally hating each other throughout the entire frieking process.
As a mediator, we work directly with both divorcing partners, with their lawyers in the background, and most of our cases are resolved within 4-6 weeks. Yes, that is not a misprint – 4-6 WEEKS! The cost is probably 10% of what you will spend on litigation and even more importantly, the couple and their family do better in the aftermath because the mediation divorce process does not drain their emotional and financial resources.
Whereas divorce litigators can only see a case through the eyes of their one client, as mediators we see the case through the eyes of both wife and husband. You do not need to do permanent damage through the adversarial process. We can show you what we have learned and how we work with divorcing couples to avoid the worst aspects of the adversarial divorce so they can move onto their future lives for the betterment of themselves and their children.
Mediation should be the primary way couples negotiate divorce settlements for property, child custody, spousal support and every other element of separation. Divorce isn't a fun or easy process but there are good and bad outcomes. The bad outcomes leave parties and their children permanently damaged. Good outcomes leave people better equipped to cope and build something new in the future. The percentage of people in mediated divorce who do well is much higher than those in traditional adversarial scenarios. One example of this is that statistically, only about 5% of people who mediate their divorce end up back in court after the fact whereas litigated divorces see about 50% of the people return to court at somepoint to fight more. Great for lawyers, horrible for families.
Please consider scheduling a free consultation and coming in together to our offices in either Scripps Ranch or Encinitas and allowing us to advocate for mediation. We feel great when our heads hit the pillows because we are doing important work for good people and in today's age, that feels great. Give us a call or email to schedule.
Scott Levin
858-255-1321
scottlevinmediation@gmail.com
www.sandiegofamilylawyer.net